When launching the game for the first time, I was prompted with the following notice: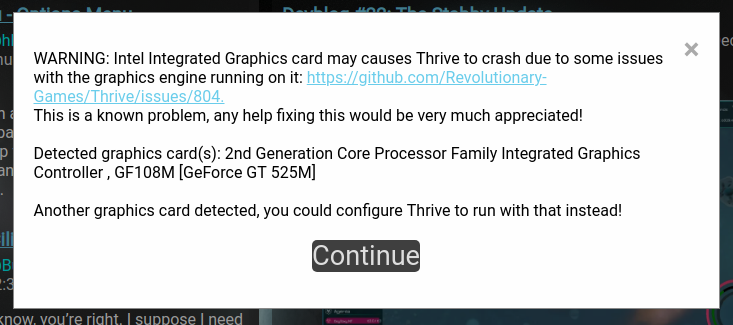 I would love to use my dedicated graphics card, but I have no idea where I can find how to switch it.
Clicking continue would launch the game (Or attempt to, at least). Each time I click Launch, it crashes (the game, not the launcher).
I've done nothing but download the game. No mods or alterations are present.
Crash Log: https://pastebin.com/HjiLhRdF
Log File(s) could not be located.
Specs:
Dell Inspiron R17 N7110 (Intel Core i5)
GeForce GT 525M Dedicated Graphics and Intel Integrated HD graphics
Thrive 0.4.3 running on Ubuntu 19.10, GNOME 3.34.1
12 GB DDR3 RAM