I absolutely love what thrive has become. and i've decided to try to create what i personally think thrive will look like when its done.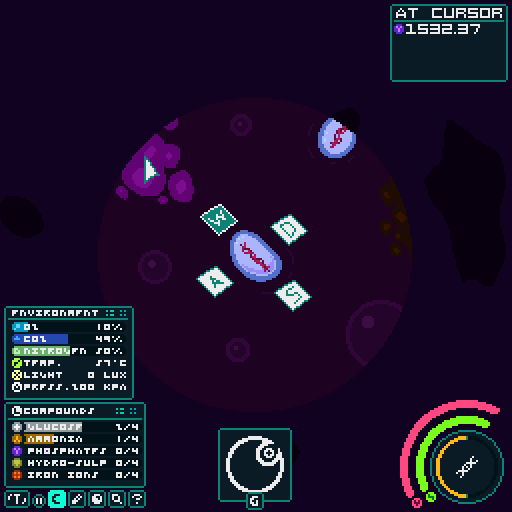 Humble beginnings
This shows basically what thrive's firsts moments look like. Already you can see certain basic things like bubbles which the player can interact with. a dark ring outside of the cell which represents the cells 'visual'/chemo range. The darkness hides compound clouds and bubbles but shows silhouettes of other cells and rocks. the dark ring outside of the cell can be illuminated by things like bio-luminescent vacuoles. but this is a prokaryote and yet to undergo symbiosis and evolve a biolumiscence
you can also see the movement tutorial in action (the w a s d keys around the cell) alongside the big gui button thats shows how to engulf.
---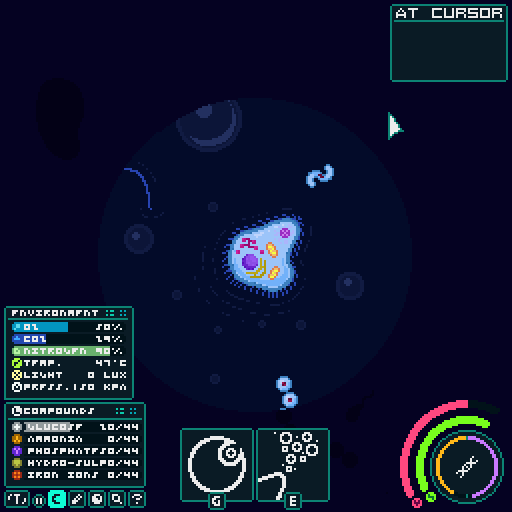 Complexity
So here we can see some new stuff. first thing is cillia. i've decided that it would make sense for cillia to be split into 2 groups. locomotive cillia, and filterfeeding cillia. here you can see the locomotive type.
some new things you may/may not have noticed is the inclusion of the new toxin shooting button gui. which basically tells the player how to shoot toxin clouds once toxin organelles are evolved. and right above that button is colonial cocci bacteria (Stringy circle worm bacteria colonies). and to the right of our eukaryote cell is a spiral shaped cell.
---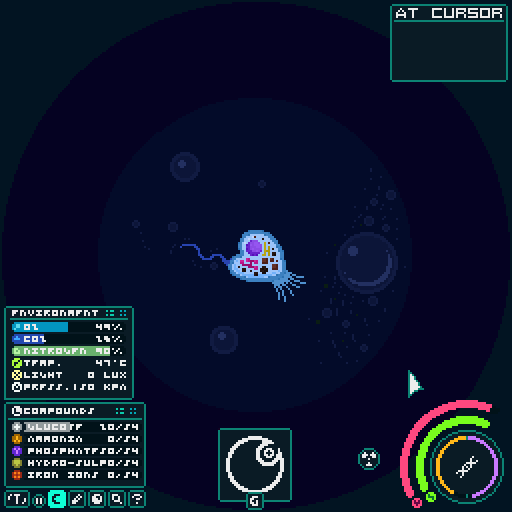 Danger Zone
here you can see a eukaryote with 'melanosomes???" it uses to protect itself from ionizing radiation from the uranium rich waters of its home. here a current is dragging small uranium rock particulates close to the cell causing it to slowly become irradiated. however thanks to its melanosomes its fairly protected from the radiation. and would require a much larger dosage in order to have serious damage done.
you may have also noticed the wierd hairy protrusion form the tip of the cell. no this is not the filter feeding cillia i mentioned in the previous image. but rather microvilli. basically one of the closest things to a mouth in the game. (with the exception of filterfeeding cillia) which allows this cell to absorb compounds faster or something like that.
---
i quite enjoy making these fun fan depictions. dont be suprised if i decide to create some more later on in the near future.