You start as a blob of cytoplasm and you'll be able to add organelles to your cell. To buy them you have to use Evo Points. Every round everyone will get 5 Evo Points, or if you have a Vacuole you will be able to save a random amount of them.
Stats, Editor and More


So now there's more things in here.

Stats

Stats are basically the same.

The last stat is population, it works the same as before. If you don't have enough ATP to survive your population decreases, and it says if you're safe, endangered or extinct.

The upper part of the stat counter is the enviroment minimal ammount. You can survive without having the minimal amount but it may be easier for other species to eat you.

Below the stats there's stored resources. You start with No Storing Points, and 1% of a resource is equal to 1 SP. To increase your SP you'll have to get vacuoles.

Resources

They're the things in the enviroment that a species can use.
Oxygen, CO2, Iron, Nitrogen, Hydrogen and Sulphur: They are the resources you can use to make ATP

Phosphorus: This new resource is needed to generate ATP. (Won't care about in the first 5 turns)

Ammonia: It's needed to make amino acids. They're another thing to ruin your experience by making you need them to survive. If you don't have enough amino acids your population drops slightly. (Won't care about in the first 5 turns)

Enviroment

Radiation: It's the ammount of radiation that exists in a habitat. To survive it you'll need more agents.

Light: Its the amount of light that gets in the region you are. Helps with Photosynthesis.

Temperature: Its the heat in the region you are. Used by Thermoplasts. Depending of the temperature you'll need different agents.

Salinity: It's how much of the enviroment is mixed with salt. To adapt to higher or lower Salinity you'll need to use vacuoles, but this will take some SP depending of the salinity.(3% Salinity = 1 SP)

Acidity: How acid the enviroment is. To adapt to this you'll have to use acid agents.

Pressure: It's the pressure of the enviroment. To adapt to higher or lower pressure the ATP consumption increases. (For the sake of not using 10 days to see how cells do this)

Others

Habitat: Where a species lives. To move to another Habitat you need to spend 3 EP per Habitat. (Moving two habitats in a turn costs 6 EP, 3 habitats cost 9 EP and so on)



Species Name: How your species is called

Diet: What your species eats

Planet Age: How old is the planet. In microbe every turn is 10 Million years.
Organelles and Agents

Now there's a lot of organelles, and the new Agents, so i made a list of them.
Turns

Every turn has some parts.
First, the players evolve their species.
When all players have evolved and the day is saturday or has already passed the turn is posted. The part of that post are:
Species
Evolutionary Tree
Events
Disasters
Notes
---
Turn 0
---
First Species: LUCA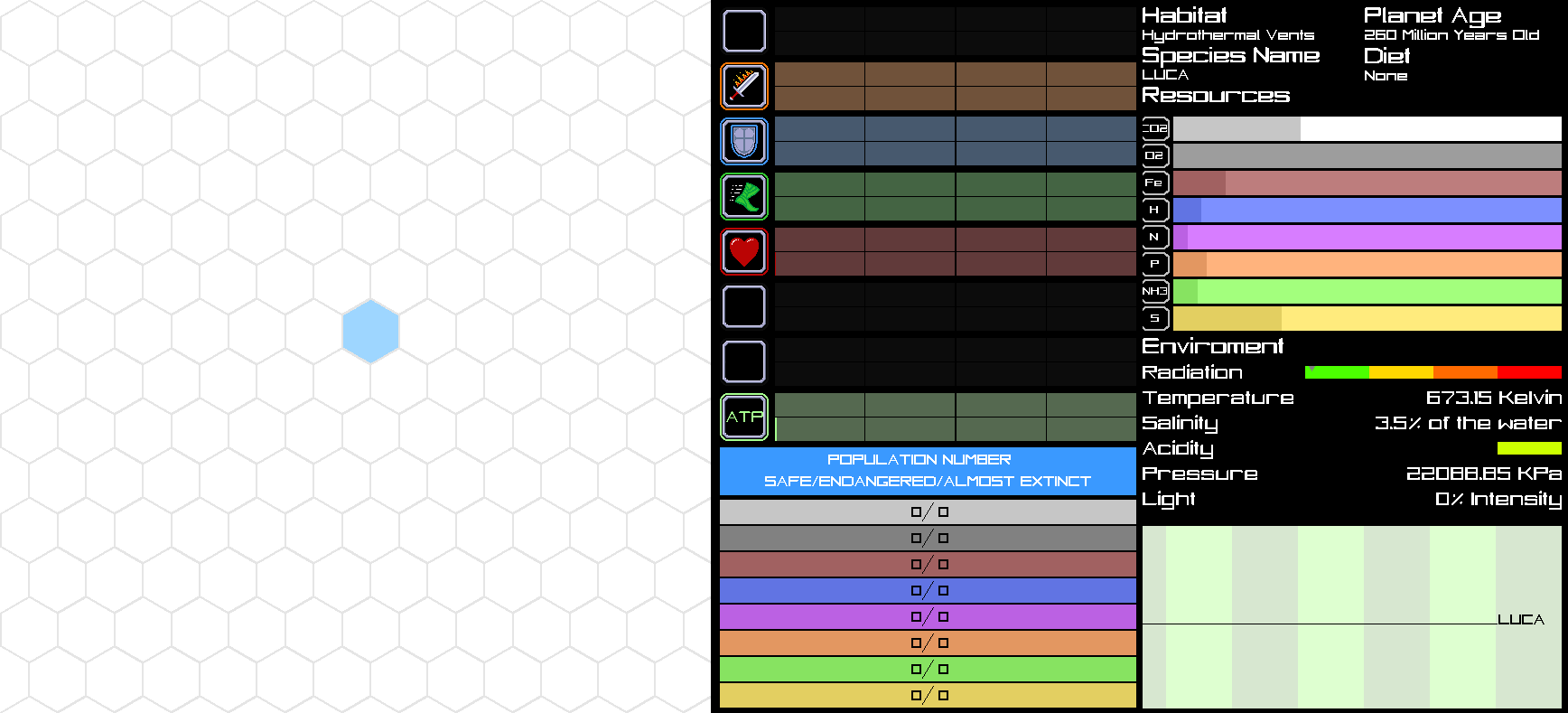 Important Event: Life appears in Rodlaria
No Important Disasters have happened