yeetus deletus
now take out the trash.
I already did, you should now find yourself outside
looks around and is now stranded in the middle of the ocean
How in the hell did end up out here?
My profile pic mean my face and my real identification. Maybe it identified if I'm honest or openess or credible maybe.
my favorite moon is Enceladus. guess what my profile pic is.
ahh that's what it is your profile picture is a ball of clay got it lol
Oi, you're making us identity-less plebs look bad
Also, my NEW pfp is me either waving at the camera or threatening to kill someone.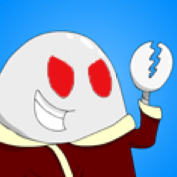 My profile picture is the broodmother a man wearing bread and embracing the resulting seagulls.
It's also the first result on google for 'man wearing bread'.
Huh, I always thought they were post it notes.
Bread makes it a 100x better
I changed mine for a better one. It looks like the MasterCard®'s logo.
I like it! It's a little easier to read I think.
Nope, it doesn't mean I'm going to say that. The people pfp also represents themselves althought it's not real pfp.
Mine is a screenshot of my roguelike (Which i develop as a side project)
Mine is super saiyan goku from dragon ball z
(Love anime)
First result for space potato on google
Mine is a classic. It's blue seagrass that uses the hydrothermicle vents to smeltal the meltal.
I wonder if the new people know this meme. If they look through the old posts they should.
Actually the underwater thread will be coming back soon, I am SOOOOO CLOSE to finishing this equation.
mine is my dog with a phone edited mustache and glasses