The game starts with only a handful of macroscopic species, including:
Vono'cikir

A crablike creature with six shovel-like legs, two swordlike arms, and a shell that can open, when the shell is opened, a long, kelp-like appendage is released, and it buries under the sand to become sessile, if something tries to eat it well it is sessile, it jumps out of the sand and attempts to impale it. It tends not to go on land much, as it can't become sessile while still gaining energy.
Eridosi

Creatures resembling sharks, except for two large tentacles on the front of their faces which they use to grab prey, which are normally Vono'cikir from under the sand, they typically hunt in packs.
Aeleari

Algae eating creatures that look like manta rays, they can change the color of their skin to hide from the Eridosi, they also have four legs.
Multple people can pick the same one, obviously, because only 3 people wouldn't be very fun.
Atmosphere:
Nitrogen: 76.81%
Oxygen: 21.35%
Water Vapor: 0.43%
Argon: 1.38%
Carbon Dioxide: 0.03%
DENSITY: 1.82atm
Other:
Average temperature: 22C
Gravity: 1.84g
Axial tilt: 13.5°
Star: G9.5
Orbit: 0.71Au
MAP: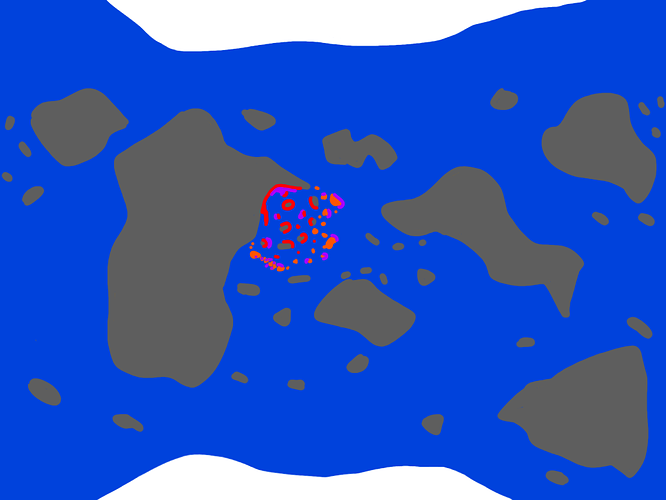 Red: Vono'cikir, Purple: Eridosi, Orange: Aeleari.
RULES:
The game is turn based.
Evolving a new limb will take a long time, it will take 3 turns per bone, and more to lengthen them.
Your species population will passively expand.
Every turn, your species may diverge into others.
I currently have no plans for "winning" the game, it will just go until it gets boring.
THE RULES MAY CHANGE