Oh, the UI. No, no, no. Not good.
It's pretty, certainly, but it is not doing the job a UI exists for: convey information.
Now, health. It's important to be aware of what happens to it, correct? Because I literally never notice. I can tell when my cell flickers or when I see myself catch a toxin, but never at any point is my eye drawn to the actual bar.
ATP is just a number, and not a noticeable one. Which isn't a problem, because there's an actual ATP bar where all the other stuff is.
But it shouldn't be there. Compounds are things you collect. They serve different purposes, are much less important to your immediate survival and therefore should be placed in a different area of the screen. The same goes for OxyToxy. Even flash RPGs don't place mana or energy bars in the same location as your money.
Here is how to fix this: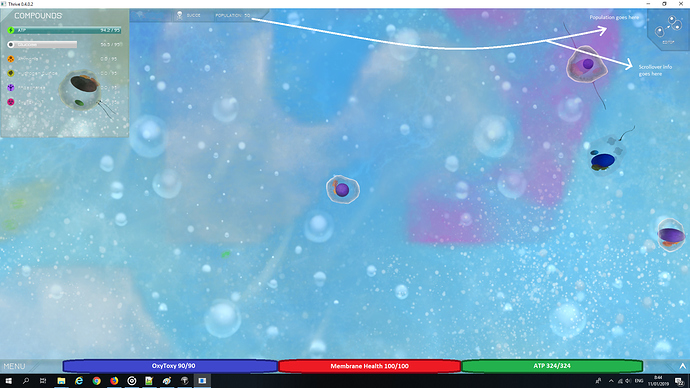 I feel like being at the bottom of the screen makes them a lot more noticeable. The compound bars have been relegated to the top left (they should not display ATP or OxyToxy any longer, since that distracts from needed information). Population goes next to the reproduction button, since those two things are associated. Finally, there should be some way to make the text more noticeable (maybe the color changes depending on biome?).
To be fair, most of the AAA games I've played aren't much better - Thrive is down there with the sorry likes of Witcher 3 and Stellaris. But you've given me a loudspeaker to the dev team and I'm going to use it for all it's worth.