Hi all. I've made a video about Thrive's past, present and future. It premieres tomorrow. See you then!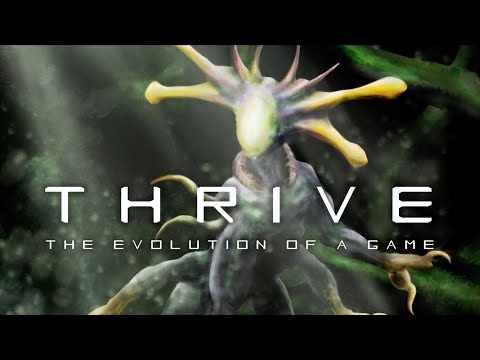 I can't wait, I really enjoy your impossible game essay.
Looking forward to it! I love your style of videos!
gg subbed, like your videos!
Wait, so there is an older Thrive homepage which is online? I need the link for… personal reasons. Loved the video.
If you're referring to the one I made years and years ago, here you go: Revolutionary Games - Home
I genuinely thought it had been taken down, but nope. Slipped through the cracks.
Man, i fell in a storm of emoticons, as an "young" thrive follower, I hope the game will take his thin line and make it a solid great future. thrive for me not just the game himself, but also the people with in, make me a diffant me if i dont join the community.
if i have the tools to help, i do to make the game and all of his best thing, even if it slow like a snail, as a reality.
its was a great video.
aka: I WAS IN YOUTUBE!!!
Also, HOLY BELGIUM, MY FANART IS IN THE BELGIUMING VIDEO!!!
Excellent video as always, Oliver! Even if I'm not as involved in the forums anymore, Thrive's development and community history will never stop to interest me.
It was actually taken down at one point, but when cleaning up Github branches I accidentally once deleted it entirely, which I immediately noticed and restored the branch and also made it available under the github.io domain again, so it's up now until either Github no longer exists or something happens to that website content branch in our github repo.
While we're on the topic of Thrive websites, can you guys give mine a try? I made it for summer coding camp, and it's just been siting on my computer since. The HTML code is right here.
<!DOCTYPE html>
<html lang="en">
<head>
    <meta charset="UTF-8">
    <meta http-equiv="X-UA-Compatible" content="IE=edge">
    <meta name="viewport" content="width=device-width, initial-scale=1.0">
    <title>Document</title>
    <style>
        body{
            background-color: black; color: white;
        }
        div {
            background: linear-gradient(grey, darkgrey, white); border: 3px solid, white;
        }
        h1 {
            text-align: center; margin: 0px auto; color: darkslategrey;
        }
        h2 {
            text-align: center; margin: 0px auto; color: darkslategrey;
        }
        button {color: black; background-color: grey; display: block; margin: 20px auto; padding: 20px 20px 20px 20px;
            border: 3px solid, white; border-radius: 20px; box-shadow: 4px 4px 4px rgba(0, 0, 200, 0.5); font-size: 20px;
        }
        button:hover {
            color: black; background-color: white; cursor: pointer;
        }
        strong {
            text-decoration: underline;
        }
        .dev {
            color:aqua; font-size: 18px;
        }
        .fan {
            color: yellow; font-size: 18px;
        }
        .pat {
            color:lime; font-size: 18px;
        }
        img {
            box-shadow: 2px 2px 2px white;
        }
        .logo {
            box-shadow: 0px 0px 0px white; width: 1555px;
        }

    </style>
</head>
<body>
    <div>
        <h1>Thrive</h1>
    <h2>The next Spore</h2>
    <hr/>
    </div>
    
    <strong>Our mission</strong>

    <p>Thrive is a community lead project determined to pick up where the video game Spore left off. The Thrive team aims too create an accurate and fun simulation of life in our universe!</p>
    <img src=data:image/jpeg;base64,/9j/4AAQSkZJRgABAQAAAQABAAD/2wCEAAoHCBYWFRgWFhYZGBgZHRwaHBocGBwaGBwaHxoaHBoaGhwcIS4lHh4rIRoaJjgmKy8xNTU1GiQ7QDs0Py40NTEBDAwMEA8QHhISHjQnIys0NDQ0NDY0NDQ0NDQ0NDQ0NDQ0NDQ0NDQ0NDQ0NDQ0NDQ0NDQ0NDQ0NDQ0NDQ0NDQ0NP/AABEIAPwAyAMBIgACEQEDEQH/xAAbAAACAgMBAAAAAAAAAAAAAAAEBQMGAAECB//EAEEQAAIBAgQDBgQDBAkDBQAAAAECEQADBBIhMQVBUQYiYXGBkRMyobHB0fAUQlLhByNicoKSstLxFVNjFiRzorP/xAAYAQADAQEAAAAAAAAAAAAAAAAAAQIDBP/EACQRAAICAgICAgIDAAAAAAAAAAABAhEhMQMSQVETYXGRFCIy/9oADAMBAAIRAxEAPwCndjuylnFWGuXHuKyuUAUqBAVG5qde8afn+jnDf9y9/mT/AGV3/RaP/a3P/mb/APNKt8xUNuyWyh4nsBh12e7/AJl/2VAOwtjLmL3PKV/21fbwB0pVjhC5etLsxWyjf+lbWaM1yPNdf/rWn7L2ZgO/uv8Atq22MNmJnxoFbcMfOn2Y7EQ7JWoku/uv+2uD2TSYDP7r+VWsAHeuJyt1HKjsxWyo4nsyifvOfb8q0Ozls6h3j/DPhyq2Y2CulKElZBEii2O2Cr2TtSJe56R/tqQ9kLP8dz3X/bXD45wSQSPIVz/1N9izf5iPpRbFk44h2YtJZe4rXCVEiSsevdoS7wewFUhnLMoYDMuxgg/LtrU+N4k5tOrEEEEDqPz9aH4d3kB6CD6afhTsdgb8MUaAtPp+VAvaUCRPPmOsDlTPF4kiSDEDSld06AeAoVgiXA4dHaGLAdQR+VAxUofSuKZRzFZXcVqKYHNZWyK1QBlZFZWxQBqsrDWUAepf0YXIwzj/AMrf6Eq2u9UX+ji5Flx/5D/pSrjees5bIeydXmhsdanWorTmaMcyKkQlTQ1jiNY1iibyQagvRFAALXJrpHnSoL7a6VpDzFUMlYb0HdtzRtwyJG/Ohn1pgLb9kCgXt601urQdwjkKAF3FbeVDO5IA99aE4e/dI5A/lUvFnLFJM6+wH/NLviZSQOtAEmPuDUDed+VD32mPIfatXmmuW2qiqOK2BW1iDO/KspjNRWAVsVsUxGmFRkVITWLFICKu0H2P2rpxWkNAyM1lYaygC89hbkW2/vn/AEpV3d9Jrz/scTkb++f9K1eLbSoqJbJZo34PhRFrFA+FK8S8VBav60qEPLgDDQ0svg86lt3qixPWlQAl0aUOo1oia4fSmBG12DWNvIqxYTsbeuqGz21kSBLE+AMLA9zSXE4J7DtacQymDGo2kEHmCDSjKMtMpxa2B3UBoG7Zpg6lajeIqgK7ibUv5CleJswasLJJJ6ml2PQa0LYlsSTFTWRmkHfeuLi1whg1TGyS/bymJmo5pjas/EWNm5UBiAQxBEEUJ2JOzmsmuAa3mplHRNcMa0TWUAYKkQTPlUYqa3zpMCE1lbaspgWvsk8Iw/tH/StXfCNK1532ev5VI/tT9BV14diJ0qHslk+MTSlDvBp86yKQ49SCaEIKw2IosvIqv278UfZxE0UBM7QaguPWXmmhWekBauCdpGt5QZgQKe9ocEuMtrfs63EHeUbuvh1Ycusnwrzqzc1p9wriL2SHQmOY5GsnDq7j+i+14YquHrQNy4VkVf8AGcNt4xfiWiEun5lOiuec/wAL+Ox+tUXieFZCVdSrLoQRBFaxkpKxONHNyxCq3UZvuPwpa2GzKzN8q+5Y7KPufAVZmws4ZLnIf1Z8NZU+5I9BS7i+HKJaSIzA3D6mB9PvRF5oOtNlQxNioLmHKqr/AMRYAf3cuvuT7U4vJWuNYQollCIITOfDOxaPaKsaFmFxITrNMnwi3lzLv9aRssUXh7j2mUkMuYZhMiVMgMJ3Gh9qiUXuOyZJ7QPfwzKdR61G6EbiKuuHtpeQSQG67T/Ol+N4RMk96OY3j8aiPMtSwRHlT3gq9YBTU8Kn5WjwYfiK1iOGMoBUTprB5+ta94+zTshZU6Duk+NY2HYaEEHYCN/KiL9vKuU/o0Ng2ANWVhrKoYfw54Hr+VW7hWI2qkYY61ZuE3gYFSxMutl5NLeLpNSWToIqfE28wpElTuCK6tXqKxlrXShxbAoKD7D5hUjYRiJA0oFbkbU34TxBUdC4LKrAkbyAZqJWtEs5vcGvWFW5dtsqNsSJHhm/hPnFcLipEAVdeJdt0SMnfnoY95oAdvj/ANqP8Y/KsFzSkr6stwinsW8Ga8rhkRyOfdOUjxO1XLC8WS6mRpB2IO4pNY7bI3zIV8dGH0qY423dbNbZFbmIifetISk3lUV4rYRawARnSQyXZ0+/4eopbxfs6cSyKD8PIsZysqV5A6jWrBw7BkkMwPOnWJtwo03q+qUu1g3aPIcL2VZcRlvFfhIZZxs43CqDrrsa3xjstib5fEdxU5B2yECBAEiJ8Jq3YzEBLjAoXYarr3deVCXuF4nFkZzkQbSYA8lmreM2JONUebY3B2sOJ7t690j+pXxgiXbzgeB517FXmdizsWZjJYmSa9xxHZThqL/XmTzIuMpPop/Cq7xPifCcNC2sEj9SwLn3cmsv5EfCbf0X1f4RQOC/Hdslq290/wAKqWPrGw8a9K4P2GxBXNfZLM/uk/EceYU5R70kP9JbIuSzh0RBsAAgH+FdKitf0m3J7yaf2W/OsOSfPL/PH+2rD4uN7Y17Q8B/ZVDuQyMYDgbHow5VVrhEnKQR4aH2oXj/AGtv4oZGaLczl01I2zHnHSkCMSYk+lbcfFLrc8P0YS4op/1ZYmY7TFdvgFZRmE+POk632UfNPnTHBcRPPaqcXHKE4tZFeP4e1sZtCpMAyJ2mCP1tWUy44QbQIMgsPsaytYytWWngQ2mI1FM8BdIINK0o21d1EgaQKGDL1w7EStH5pFIeFXQSI0G0H707tgdakkV8QUg6a0qe9FPscAaR4oCqRQMbhqfD4mg3NchqKFQ3d5FQl9YmorF2sfQ+dFBQbbei7V2laPRSPTGeudhrxuWFLGSpZfY6fSrFxAgKfAVTP6N8evw3QnvK0+jAQfcH6VY+LY8BSZEAc9vWuaTSTXkp6PP+LcWKuWRe9oJ1qGzg8Xe74uQD47egmKr3FcdcvXrmRO6AXYr/AAqInwHPrSzB8RdQSjkGeR/Gt6agkTF1suOJ7I4iGYtnOsQSSTy3qlY6yCv9roat/Au3b2yFunMvU7j1H4067Q9m0xoGJwmXO2rpIVXP8Q5B+s6Hz354crjKuRV69Gso3lOzxh7dQslWLjvCrll8t1Cjx8pHLkRGhHiKWLhhEnXwrqszFhFMuGgKcx3qW3giVJ5Cf0aEW7EgbGk84E8hHE74bkPPrQFq+V/Kt3jNQ00sAlQTexJZcvKQY8ayhayihndsTpVm4dhUyHPqdgKrVloNNcNjuQ1NJkstPCcABBzaztyptfXL60p4S3c1Op+lNsS/cHQVn5I8g2IWRpSTF2ommwNB4xY9atFoSOtQGjbia1C1sQTzqhnFp4otmmorNu0sF2dp/dQAR5s34A05wAwN05G+NZY6C4XW4gPKVygkeoqHJLwx0KrAYmAJohCQdam4rwu9hbmRyO8MyXEPcdDsyn7jcexJXAuHPibqommku5+VV6n8Bzp3ehFo7PqtmwLwALsTOsGOg+9d8axxujKDlVt/E+dPV4GtlBaY50gQ8QQdtQNtz9qr74WGZIld1PTwnpUqMe1tZLesCLDoUuIQBGbmQAQdDJNJsd2dupfcWkDIWJVVPeUHWMp3jbSeVWLG2pK6aKwJMabjSjeK5AM40nUAbhdvTr61pWSW0kUDJvI8PI087KcffC3ApbuNoROgPI+VAcTuZbhYjuXDmn+3He1jn83qaCd1EE7TuOlROCkmpBGTTtHoXbni1nEYaGEXUZWSRqZIDgEcipJ6Soqg27KxUAxOZo1I8d4oz4ZQZgJ6VMI9I1djk7dguKtECKWNhDTH9qzEzXZZQs1oiUILqkaVFROLYFjG1DU0MysrKymBup7IO45Vyqd0nofyrEBpCLTwvGwoHOrFhriug70k7iaoeFunSrPwm503qZIloY3UA1BqB32OhjkdqmcyDPhUN8rlUAGeZpIEKsQgnfx061BdUARRd1CNRodqDe0aaY7BLlskSf5V0kRPOisLhWuNkkKoGZmJhFUbsT6gADckCmeETAJIcX7h/iBW2v8AhUa+59BScqGTYHtCGRbGKQXbY+UklXQ9Ucaj7Gn2A4rhsMn9QrsHILlyufSYUFQAQJPIc6r+I4fhrpHwb+SdAt0HT/Go+496YHgCW1RPipduXGAVEkgdZJ1PsKItLQrsuvD+0iOAJLTvA1HoeVR3sZaLMVB6QR9opdftrYAFuJWMxG/rQeO4znUKVAy8xufONqbuwtolxN1AY2G5G9AcQxiBTk7zMJJOwHSoMZxHMoWBp7+tLMTbYgmdNoFNBR1wm3bu3vg3V/q7mh11U8nXowNVvE2cjvbYyUdkJ5SrFT9RTzCpDBjuP0KX9ocG5Zro1V2LHTUE6mfrTbCxUjENlHOmtu5Can0pPh3kgU0y6a6VLBi3F6GVqFsV3YrGuFSVOx96hu2xuDVFETmozUrMYj/mojTAysrKygBlwzC5wRmC+fPQaUZawhAgDQb/AJ0DgHgDSe99NKaPxHKCBoDvUPZPkywigkxrTbBPlOhgn9RQGBdCMx16URYgP+opMTLBcAKDkY08fOl6PrMx4+NTWhI35UHdJMkbChAZnBmeetA3yOVSO011ew5dlW2rMWjugEknnAFAAt253Mo2JlvGNFHjGv8AmqBCOdW7DdlXZP6yLXVnMnyCjU+sUv8A+nYay0s5vsNlKfDt+bd4lvKQKEOyvvcIBirNwcHD2P2grmuMSqjkF2aPHl6VH/1xMjJkRN4yIi6HkCBIorjdwW7dm0Nwg25EgE/eqigTIsTxFwittm1aeZNK1xTO/M+A2qXHksFDH0nQ+NKb97K/cJEcwaYIaJcJOvLlRtlWZJ/dmCftNJsO5PjTrBX8ghhoeVJgyLGWGUgjUeG9H4DFFO8hDdVYlT4iuMQ4Cll1TmP3l6nXcVAVsuO65Vj96js1slutnHGuH2cQDcsp8K+NSugR/bQN4j16irX8U2qspDLoQd9Kdtg7yHuMHHQmPY1Bhr6G4PjWx45gCfQ1TlFqy1UsIrd/EFiTA1+lRAnoa9LuWuGESbImNYVgB/lMClFv9ktP8SxkDAHLmJdQfANOtR8sfRfRlMcmNdK4CE1YMZ2ha8rriER5U5HCKlxG3WCo1UnQqZ3nlSi1fEQRWlutEP6Imtws+I/GsojFOpTQ6yPsa3TTwCeCfhmHzWyejfgPyqTGyQNtOnOt8EvFUYA6E6jroKNtYU3Ccq6LqaCXsWviMhhQcvj9aI4biSSZmjcbhFCGRrv6RQPDnA0OhqQH2DvSxA1AHOt3uYG3PxoPCkZtKsFvhN28udE05sSAo8yf+aTaQlsW4bBM7BUEseX4noPGrdYa3hEhBmciHuHr/CvRfvzpRibotghD8sZrnNiPsPDxFI8ZxF2MmdDOp3qFLs8aLca2N+L8YLLDSCJ57ztA5UFY4NfxFr4oZQBIXN8zRuQI2nST0NAm4LgJYHOT6R4DlVqfHJbQLMEIqgKdABWiZJTjh8jkXBLbCBAHUmrB2lQm+Dy6xoANqR8ZxWYgBiZP8hU2JxTtbSTrEHWTppNWtDQHeOpM0rubyKLYs7HkOdCYhQsiTIpDQ34fcXJK7r83kTof11o21fTY8/1NIOE3srgE91+63kdDTV0AMcxofOk9iYywYKuNY157etLuJ4fJcZRprI8jrRNi6QRImIozjeHNwLdRCYADc/Ix7j0pds0MWWXZhvrSy7xAo/eUHXePT6b0Wlwqai4paDLmFJxT2Ks2OOyRLrcstkK3EKqx2D7oZ6Zo8qXXsEmZlYZXRmR16MpKke4oDspl/bLMmAGJMc4UmPWKEvcSa5duXWOtx2YjoWJMeWv0rP43boqa7JMbnhwdTsfvSrE8JK6j+ddJjSo0MVMvEs3zAe9CU4mKUoirEWCqyetZRfE7gK6dR+NbraLwaxeCHAE5D0zfgKtGFxL6kLAIA0qq4QjIddc34CrZgHGUeW9DJZBiLoeV5cz9KFOFAOUEb71K9wZtt5oa5fOaMpA6xpSAsXBkwrMVZHlRmDF4zkGIgbU+bi73kNtMtlLYnT5fBT561UMOQ4AI26GDHmaJXjLKxRUUJGi6kTO/jWUuLPsuMjeNdM2UuxEAsToMxnpyiPehsGi3GKJJ1+bkPP8AKgcSjO8CSztoOpJp7D4YC0gAdVlmgfMR3jrz+wq4xpUTLOSLGYdbSZkRgwMZ2Jlupy7AUFZBuN3jrzrhuNvBViDO5MUvbElH7rajYjUVdAkFYixkYljHSZ/Kswjlng7BSR6UJib7OZYyamwagMuv/BFCGkR4+VGZNNdR+vH70sdy/KTTTGsSYIA0I/nS5QF8fDr1p1kKObN7LpThLmdi0/MAfUgT9ZpLkg60ZauBQNaGA6tMdqs/D8aUylAY6g65o2IOlUy3igQIpjgsTGh239dj9h7VjyRtDi6ZcW4lhnZkvYVAdmJtJm/zLDA+INJOPcYwudrBw9v4RUBbllFS4jQPAZvEE61NeFu5bLlyt9ULBSAVdEEyeYbLoDzy1TOJ3g2sVnx8du7f4vyVKTWKQu4hbFu5NtywBBV8pQyIM5SSVIPidqXk/qKPuOGEcwKCC667c/KupE2dq/I1p9K1cAnumRynf1rktpQB29yRFZUVaoAMwSSPX8qsaJkQDMJI2/CknDLgCmev4CjrWLEzoTypNZIeya0jET7TRi22KjOdJ3igLeKbNrsTMbegqa9iQdZnamhMluuEbQ6ffyrqyrMM5WBNAXbuY054FbNxXtK6q7AFAxgGDJHgY+1KclFWxxjboZ9m8Cqu2Jcdy0pInbPGkfrpVe4jizcdm/ibXzJq+W8E5wQtHKjF4AYxng65uhJn2pBwxWwyXWuWity3ATMNmY/Ms6MQoYyJ3FYrlVs16vAjODQiMutAnCMeUAc6d3+Mo7TBLt8zEySepmh8S8jQ8q1TM7FgtDaanwjwRtzXrvtQwmZmi7OBYoXmPDn4H3olocXkl4xplMAH76aUvuYcCObMA3kDyp/fwTPh2aNlLT5b0vv4drli3cRczJKsoHeI09SRE+TeFR31f4LcfQMmFVl1JEHpSrGrDabVZ8Bamy5ZGlWXcR3CHzRO5kJ7Un4gin5Rp4xPrFWpWRVAOBuQadI+lV4GDTfCuYFUAzsuVMjoQQdiCCpB9DS3E2TR6GubqTUgV+4hBmsa1KZwwmYI5x1NHYoeG3lS+/cMyNPAVQA4jpPhURohkPkDFZctQBBmmMHrK2VrKACcNeKjTqZnaIFEYdCHykgjfTUVHgcOWBPQ/hUr28moGx3/AAqWyWMMTeVU138KVvip6/ryrGvFmBPL2qK4NZj2oQJB1q5CzE9KLwGJUMGYM5ABGUxlM0IttwklDvExzqbg2INts4jMNgdR7TUyzFocXTLQOLYi4yJkKgMCC0z6+HjW+KXHZiLwcpDTBkRBGhqw4PDs1hcReKliJXYL4az4Hb/ivcTvBw5zTAB8z0Uc65o8fpVRp2+yo4dIKsWiDtz9ulbulmB7xjcaRRiWpMFY86jxFlhy0mP0f1vXVaMrQvS6dtqt3C7x/ZTcKkw4tn+EyhYHXmCCD5iq38E8wKt3DcJ+1YezaR0trbLm5JA1J7rRz0zep8az5JVXo0irsb9mcP8AGtOH7quGUgdCIkeU1SMFhMRbd0gyjMpIJElWIJEbjTn4Vb7uIt4TKEvZlAgqNZ6kkczTO9jcPctQji07EMWWDmO5DBhrPhFcvyNJqsP2buN1RTMQL+U51nNovekjUaheXrSu7ZOWT5eNOu0DsWYgkozTMECNl18YblyHWluGtk7fXWurizFMwmqlQsfC9K6s22G2oqxPwvujXU76fY0ux2DZNtvKtbINWWOxFGpZY7ChMG40Jj8atXAeGtiGyqsRqWOwH51LYFdxPDiRt9KQXeFXS8KjHyE173w/s/YT5hnPiaC43dtW+5ZRPiE9NQOdSpNCtnk2D7F468e7ayAfxnII9dfSpb/YjGIs5UPgH19mAq0Y7tNdUwxHgI03/W1E8P418QmQSToCOX0p9mGTzDimEuWxF22ytMSdjpOhGhrdXj+kMD9mUxqbi+fyv9Kyri8DsoOCusFIUnU6gelEi0zkKAfSuODrJjTU8/SmNzEsjZVIMHcGh7ADfhxXeQ3TTau8PhjqSBG0NPvoJ9qYZsxlmj708w123kCi2rtyzEhSemkHpzFITYmv3gQAqB2JGwZFA2y5SssTtvRGHwtmc1y2iNoAmV8pM6s++mg05zuOZ7XsSTC2fh5oUBV+GrQSdv399zPKamt8KxRHxHsBgTObdwNdAubKq89hNK0iatUZbv3G7rPntAxkVDbRDBMKVGoAjWZ1pdiXtM5Ud0coLsPUxPsKd8K4CmJZx8Z1+H8wORNTsDlBjbX7morHClVvmt76w2eeWhG/P3pbdi0ivvY1L5x6AwY8KEvZV7zmddF/PXTlV+PC0a1Lgs0yoVCqgdCWOtVrGcJtktFthGxBGs9d/b60q+xrIiNw3nBEKBvyH8zT7heCcCVBM7mJHrFLMKyI+UqSI28ecV6P2cLOLZtOETvBgQNfEg6+UVPJKlSRrEp+M4ZcbcBz/CojTn5+ld8M7M37q5lWV6EivXu4slAJIgtHePh5TS5scEaCFWdTBlpqEnWaBzR57c7NYl3yG1AUAZoEH129KsPBOxuTW4Z8IgDyMzT1+KqSogyTAM/kKLM/vkgDqwArRPBFgN7s+jDu6Hzn3mqbxvsze1yrp1kRHvV8GMT91wT11ih1x2YnmvM/unqAetHYR5/wHshmuBruZUGukifL+VelIURMlpcqr0Gn8zQl/GorQxUEeJP0ExtVe7Q9ocjC2CNfUEeHKjtYFiw/ElbMCduU6+e1JeKvBLkHMR4bdNvKg+Hszw6DMXkkjXXbymp8dkUfDcgGCZmT47bUsgIcRgxdIZt+m318q6scb/ZhkW3nzE6kgEeO0N5aUpxXEwlw5CdJAkgmk/E+Iu4IaPqfTen1b2UE9rOPC/byARDgmTJJAYSNNta3VbxLSuo1Bj0isrWKwMjsXIBFbDkHeoFFbBNOhUM7PESraqDTbg3aFbL5mQtqSBoNOX6FVhgee9buXC0TyEcqTimFFtxfakuXIaNO7mliPLeKHwvae+JVr75Dus+wH8qq01Ijml1QUWXD4zOxYSC2/j560fYxFzMFGaCdlgH3oThnDs1vPBLTsAdtp2rYa6hlBrzO+nMagxStWJ6L58RlQd5tB1OnrSuzhWuZnzZQOZ3PpVYtYu+XkEjwExr/AHjvV6weDFy2Aoh9JCiRtSoVUVq3w3PeVGgeM1e+FYWwgFtMpHzMZzEnz/UUkbgDI4d82myDYnxI1PkP5U0+JkQsqgOdFEdPt/KolTwwtjHimKKQiEAnkN4nx2FJeN2TbGfP3jrv1jYCgHxHN2bPvmhSBJByk/h50FiuN2dFdi0TMAxt/EBvMUKIE6uysMrtMzIOs9dtTTpbSoua7fZ2YaB406xHpVRftCia2kmZjcD86R4vjFy60u5I/hGgHnpVqNjo9GwmMQtla58u4B7sQDoY3jl41p8P8QhReITNmKzBOuxka+lUS1dQWxleSdxz8PSob/Fcg1LT4N+NJwGXHG2lW73CZGuhn6Ul41bSc5ObxJKtz0A50nscXQxmkxybauMZxJbzxIAGkQYjlliko0wLBZ7R5EC2VyqNDMz9Ij8aT4ribly7TqOWmnOg7zrbUAPObcfrXpQeLuBxo4WNDJgGtFFCQQ1xH1YaamZPpz1qFHXWB3eU61ApXKFLKREfMJnkRQQeCRMj6Gm0MLx99SmUATI1961UGJUZZHUfjWU0Miw6ght55fjWrSyRpNR27pUypg+FYLhGxNMAu7bUMCx0MyAZIPjNCla5LE7mtZjSoDsISYFE3sA6KGYaGhQ5BkHWpHxbsIZ2I6EmKAH/AAbjNxBkDKB471eeFcP+NbzoM688hza+NeQzROBxly2c1t2RtpVipjppUuNio9YTgBJCnLbHMsZY+351Pc4wcL/V2jngSSVGn2n+VeTNxrEEyb90nrnb86j/AOp3oI+K8HfvHXzo6jPb+GdrReGUICeZj6aGp+NYrJbBUIG5tzgdNK8IscQuqRluONeTEfajruOutcym7cI6FiR8vQ6UdL2Kiz8Q4wHOQEKBoT+t6TYq1r82m46RSF7pJeTtt4d4bVLfvsFSGOx5+VNKhUNsNcVWh5I8IkeIrvGC2VzKYB5czVca+x3Y+9YjmRqd6KHQxRCNifesYad4z5VBaY/1mp0BjU6b7VyrH4RMmc0bnaBToKMQzsP+KjW4VMg61Jf0VCNCQZIJ12qPFDKxjSihmnuljJOtTo5VCO6c/uKitmVJOpGx5jbao3bQffnzooDitTRToJt6bgT9K5sgG4BAiNuXyzTAjN9oKzoSD7TH3rK5Y7isoA//2Q== />
    <p></p>
    <em>Concept art of a creature from Thrive</em>
    <p></p>
    <strong>Stages</strong>
    <p>Just like in Spore Thrive will have multiple stages in it's game play. The stages are microbe, multicellular, aware, awakening, society, industrial, and space. Click the button below too find out more.</p>
    <button>
        More info
    </button>
    <p></p>
    <img src=https://i2.wp.com/revolutionarygamesstudio.com/wp-content/uploads/2015/01/Lizard-Slide-1.jpg?resize=1079%2C360 width = 500px />
    <p></p>
    <em>Concept art of another creature from Thrive</em>
    <p></p>
    <strong>Help</strong>
    <p>Thrive is an open source project so it depends upon volunteers too progress. Follow the links below to help out.</p>
    <a href=https://forum.revolutionarygamesstudio.com/ target = "_blank" class = "dev">
        The developer forums. Get in touch to join the Thrive team.
    </a>
    <p></p>
    <a href=https://community.revolutionarygamesstudio.com/ target = "_blank" class = "fan">
        The community forums. Join them to show your support.
    </a>
    <p></p>
    <a href= https://www.patreon.com/thrivegame target = "_blank" class = "pat">
        The Patreon. Join it if you want to donate.
    </a>
    <hr/>
    <img src=https://revolutionarygamesstudio.com/wp-content/uploads/2016/03/Header-3.png class = "logo"/>
    <script>
        function question() {
            let stage = prompt ("What stage do you want too learn about?")
            if (stage === "Microbe" || stage === "microbe") {
                alert ("In microbe stage you play as a singled celled organism from a 2D perspective. In microbe stage you must collect the proteins you need to grown. Microbe stage is currently the only stage implemented into the game.");
            }
            else if (stage === "Multicellular" || stage === "multicellular"){
                alert ("In multicellular stage you play as a simple multicellular organism. This stage starts as 2D but once you have progressed enough it becomes 3D. The goal of this stage is too become a much more complicated organism. Work is expected to start on this stage soon.");
            }
            else if (stage === "Aware" || stage === "aware"){
                alert ("In aware stage you play as an animal. The goal of this stage is too simplely become a successful species. It is not required to beat this stage. If you want too move on to the next stage you must develop your brain enough to become an intelligent species.");
            }
            else if (stage === "Awakening" || stage === "awakening"){
                alert ("In awakening stage you play as your species as it developes intelligence. This stage starts out with you playing as an indivigual member of the species but when you start a tribe it switches to real time strategy.The goal of this stage is to start your worlds first civilization.");
            }
            else if (stage === "Society" || stage === "society"){
                alert ("In this stage you control one of your species' civilizations. The goal of this stage is to start the industrial revolution.");
            }
            else if (stage === "Industrial" || stage === "industrial"){
                alert ("In this stage you continue too control a civilization in a pre industrial revolution world. The goal of this stage is to unify all civilizations and invent space technology.");
            }
            else if (stage === "Space" || stage === "space"){
                alert ("In this stage you control your species' galactic empire as it takes over the galaxy. The goal of this stage is to have your species ascend into gods.");
            }
            else {
                alert ("prompt unrecognized! Please try again.");
            };
        }
        let useButton = document.querySelector("button");
        useButton.addEventListener("click", question);


    </script>
</body>
</html>

/jk, I know my websites bad
I have had my fair share of HTML,but congrats
It's been a while since we've seen Oliveriver, their last post was 2 years ago

Yeah